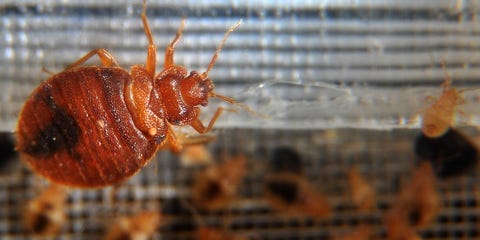 Just in time for Halloween, everyone's worst nightmare has come true: In early October, just one hour into a nine-hour British Airlines flight from Vancouver, British Columbia, to London, England, Heather Szilagyi, 38, says she discovered that she, her fiancé Eric Neilson, 38, and her 7-year-old daughter, Molly, were buckled into a bed bug den.
The redeye from Vancouver, where the trio lives, to Heathrow Airport in London was the first of a three-leg trip stopping in Zurich, Switzerland, and then Kamnik, Slovenia, for Neilson's grandma's funeral.
Szilagyi says she noticed the first bug crawling out from behind the TV monitor in the headrest of the seat in front of her. Because she'd experienced a serious infestation in her apartment in 2013, she was — understandably — alarmed, and alerted a flight attendant, who apologized but couldn't move Szilagyi and her family because the flight was fully booked. Szilagyi says she later noticed another bedbug in her lap, squished it, and showed it to a flight attendant, who didn't seem alarmed. Because Szilagyi had nowhere to go, and her daughter was asleep beside her, they remained in their seats for the rest of the trip, during which she says she spotted two more bugs.
"I figured I was going to have to live with [bed bugs] again," she says. "I used the flight's complimentary wine as denial juice so I could get at least an hour of sleep."
She and Neilson opted not to alert nearby passengers of the infestation to avoid ruining their trips or embarrass them if they were the source of the bugs.
After the plane landed, Szilagyi noticed several bites on her daughter. Because they didn't look too bad, the trio boarded their connecting flights to Zurich, then Solvenia, without alerting British Airways staff at the airport.
But by the time they arrived at their final destination, Szilagyi noticed that Molly had developed as many as 50 bites, while she had roughly 30, and Neilson had about six. At the Airbnb they'd booked, the family took precautions to prevent further infestation: They put their passports in the freezer, washed their clothes in hot water, and placed their pillowcases, which had been on the plane, in the dishwasher. They stored the rest of their carry-on items in sealed garbage bags — another best practice — for the remainder of their trip.
The family didn't notice any additional bites once they were on the ground, but their stress continued as they spent about five hours trying to get in touch with a customer-service representative from British Airlines. "We hoped they would put us on one of their partner airlines for our trip home so we wouldn't have to worry about bed bugs on another one of their planes," Szilagyi says.
When she finally reached them, though, all she got was an apology. Neilson tweeted both to alert others who were on their flight and to encourage the airline to do something more.
In response to the tweet, the airline upgraded Szilagyi and her crew to first class on their final flight home from London to Vancouver. "We just tried to be as nice as possible [to the crew] because the bed bugs weren't their fault," she says of the trip home, during which no critters were spotted.
"The presence of bed bugs is an issue faced occasionally by hotels and airlines all over the world," a representative from British Airways wrote to Cosmopolitan.com via e-mail. "British Airways operates more than 280,000 flights every year, and reports of bed bugs onboard are extremely rare. Nevertheless, we are vigilant and continually monitor our aircraft."
But Szilagyi isn't likely to give the airline another chance: "I just wouldn't pay to fly this airline again," she says.