(Beyond Pesticides, January 23, 2018) The European Parliament decided to set up a special committee to look into the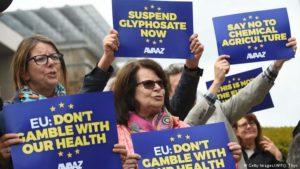 European Union's (EU) authorization procedure for pesticides, in light of the controversial review of Monsanto's glyphosate. The special committee is to assess the authorization procedure for pesticides in the EU and potential failures in how substances are scientifically evaluated and approved.
The Special Committee on Plant Protection Products, which will have 30 members and a nine-month term, was voted in last week to assess the authorization procedure for pesticides in the EU; potential failures in how substances are scientifically evaluated and approved; the role of the European Commission in renewing the glyphosate license; possible conflicts of interest in the approval procedure; and the role of EU agencies, and whether they are adequately staffed and financed to fulfill their obligations. It is scheduled to meet for the first time in March.
In a joint statement, Members of the European Parliament (MEPs) Marc Tarabella and Eric Andrieu, who called for the establishment of a committee last April, welcomed the move which will allow the Parliament to lay the foundations for "transparency and independence" of the European Union's decision-making process. "The glyphosate case has revealed the structural failures of the European Commission," added Mr. Andrieu and Mr. Tarabella.
The new committee is responsive to concerns raised about the risk posed by the herbicide glyphosate, which was granted renewal last November for just 5 years, after the European Commission's initial failure to pass 15 and 10-year old renewal proposals. This came after months of controversy over the role of glyphosate's maker, Monsanto, in the decision-making process, and its influence over scientific reports used to support glyphosate's review. It was reported that the European Food Safety Authority (EFSA) copied dozens of pages from a Monsanto study in reaching its conclusion that glyphosate is "unlikely to pose a carcinogenic hazard to humans." EFSA's recommendation was supposed to provide an independent analysis for EU member states when deciding to renew the chemical.
Both EFSA and the German regulatory authority, known as the Federal Institute for Risk Assessment (BfR), have been accused of working closely with Monsanto to sway the EU's final decisions on the controversial chemical, and of using material directly from Monsanto in their reports over the safety of glyphosate without making clear that the data came from Monsanto itself. In 2015, reports indicated that BfR based its glyphosate renewal assessment almost solely on industry science and classified industry reports from an industry greenwashing group called the Glyphosate Task Force. It was also found that three scientists on Germany's scientific panel on pesticides work for the pesticide industry.
Molly Scott Cato, MEP, who sits on the European parliament's agriculture committee, said the decision is a "victory" for Green groups in Europe, who have been pushing for a special committee to investigate the decision-making process for the renewal of glyphosate's license in Europe.
"Greens have serious concerns about whether the rules have been respected during the decision-making process for glyphosate and why scientific studies demonstrating that glyphosate is dangerous have been ignored," Ms. Cato said. "This committee will have a vital role in establishing how we can make the decision-making and evaluation processes transparent and objective. Secret science is not science: its time to shine a spotlight on who is pulling the strings when it comes to authorizing these potentially toxic and environmentally damaging products."
Glyphosate and its maker Monsanto have been embroiled in controversy after the 2015 the World Health Organization's (WHO) International Agency for Research on Cancer (IARC) classification of glyphosate as a "probable carcinogen." Since then, Monsanto has been working overtime to discredit IARC and push its science on to regulatory agencies in the U.S. and Europe. Last year, the European Parliament banned Monsanto lobbyists from committee meetings and digital resources, as well as prohibiting Monsanto lobbyists from meeting with any Member of the European Parliament. This was an attempt to limit Monsanto's influence on the EU review process amid mounting public pressure.
The New York Times reported on Monsanto's internal emails and email traffic between the company and U.S. federal regulators that suggested that Monsanto had ghostwritten research on glyphosate, which was later attributed to academics. In December 2017, the U.S. Environmental Protection Agency (EPA), declared that glyphosate is likely not carcinogenic, conflicting with IARC's 2015 classification. Some charge that EPA's assessment relied heavily on industry studies to arrive at its conclusion, and ignored its own guidelines for assessing cancer risks.
Fight back against Monsanto's attempt to undermine the scientific and democratic process by getting involved at the local level. Work to pass policies that restrict not only glyphosate but the entire range of toxic synthetic pesticides registered by the U.S. Environmental Protection Agency. Beyond Pesticides has resources to help you get started, including an organizing guide, model policy, and list of less toxic, organic compatible products. For more information on IARC's glyphosate cancer classification and the IARC review process, see Beyond Pesticides' article in our newsletter Pesticides and You.