Plus, some tips to make sure your stay is free of any creepy-crawlies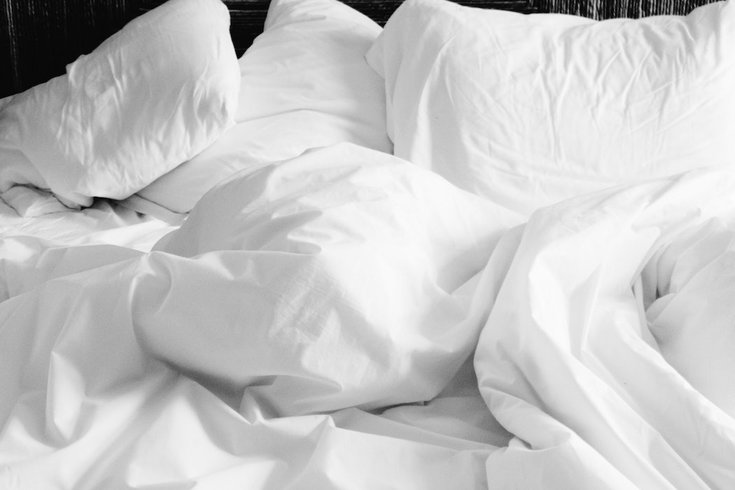 JAYMANTRI/PEXELS
PHILLY VOICE by Bailey King – August 14, 2019
Airbnb has taken the world by storm since its 2008 launch, providing travelers a more home-y and authentic experience at costs often lower than hotels.
While the user experience with Airbnb is generally regarded as seamless, one irritating problem has bothered some travelers: bed bugs.
A quick Google search of "Airbnb bed bugs" brings up pages and pages of reports of the discovery of reddish brown bug infestations or clustered itchy bites on the skin.
A CNET story published Tuesday about Airbnb's problem included one woman's report of bed bugs at an Airbnb here in Philadelphia. (Perhaps this is no surprise since Philly topped one list of cities  most infested by the pests.)
---
The woman, Dariele Blain, told CNET she found a bug crawling on the bed of a six-bedroom townhome she rented for a birthday party in July. She sent photos to Airbnb, which confirmed her suspicion that it was a bed bug, but the company said it could not relocate her 20-guest party to another Airbnb, to prevent spreading the bugs. Instead, the group was told to book a hotel, which Airbnb reimbursed – plus the original rental fee – within a few days, Blain said.
Blain told CNET:
"There's nothing in there [about] what to do if the house is not clean or if there's bedbugs. They need to be more proactive with stuff like that because it's a public health issue."
(This appears to be common protocol, as friends of mine had the same experience in Montreal and had to move to a hotel.)
While this is Airbnb's unofficial protocol, there is no official one. The company claims to handle bed bug cases on a case-by-case basis and, in one such instance, reportedly asked a renter to sign a nondisclosure after an incident.
Bed bugs are a type of insect that feed on human blood, usually during nighttime hours. While they do not transmit disease, their bites can result in skin rashes, psychological effects and allergic symptoms. According to the Environmental Protection Agency, bed bugs are, indeed, a public health issue.
While hotels primarily have a handle on the little critters, no place is truly safe from an infestation.
The New York Times has an all-inclusive tip guide for to make sure you don't bring any bed bugs home with you. These tips include looking out for the telltale brown-black stains on sheets, mattresses and boxsprings, avoiding putting your luggage on the bed and use a lint roller to test luggage for bugs after travel.
And read the full story from CNET, "Bedbugs are giving Airbnb users headaches… and itchy bites."
"Goodnight. Sleep tight. Don't let the bed bugs bite."
NASHVILLE, Tenn. (WTVF) | Emily Luxen |June 3, 2019 — On a week where thousands of visitors from around the world will come to Nashville for CMA Fest, the city is ranked as one of the worst in the country for bed bugs.
A new survey by pest control company Terminix finds Nashville is the 18th most bed bug infested city in the country. Music City was ranked 21st last year.
Philadelphia was ranked number one in the report, followed by New York City. Memphis was ranked 17th.
Terminix said the rankings were based on the number of services the company has performed in the city in the past year.
"A lot of the problem we have here in Nashville is driven by the fact we are a transient city," said Chris Bryant, a Service Manager at Terminix. "Summer tourism is starting to peak this time of year."
To prevent transporting or being bitten by bed bugs, Bryant recommended people check headboards, mattresses, and sheets in hotels or Airbnbs for any signs of bed bugs.
"What you are going to be looking for looks like small black dots, like someone tapped it with a black ball point pen," said Bryant.
Bed bugs are visible, and when fully grown are about the size of an apple seed.
Bryant also recommended hanging all clothing rather than putting it in drawers, and to keep your luggage away from the bed. When you return home from a trip, wash all your clothes in hot water.
The bugs can bite and leave behind red itchy marks on your skin. Bed bugs do not transport disease.
"Especially if it's at night and you are in bed and you are being bitten by bed bugs, it will wake you up and cause you to itch," said Brian Todd with the Metro Health Department.
Todd said any bed bug sighting in a hotel should be reported to management immediately. Problems can also be reported to the Metro Health Department at (615) 340-5630. It is helpful to provide the name of the hotel and the room number. The Department's Environmental Health Bureau will look into the cases.
Bryant said Terminix hoped the study would increase awareness that bed bug sightings are on the rise, and to educate people on how to prevent transporting them.
"It just takes one to hitch a ride on you, and when you go back home, you've taken it with you."
Pesticide that poisoned Delaware family still being used
| SAN JUAN, Puerto Rico
A criminal investigation into the March poisoning at the Sirenusa Condominium Resort continues and the Esmond family, of Wilmington, is in settlement talks with Terminix, the company that used the chemical on insects in a vacation rental adjacent to theirs. A separate investigation by the U.S. Environmental Protection Agency and local officials into the broader use of methyl bromide in the Virgin Islands and Puerto Rico also is still underway.
Officials have disclosed few details about what they've learned. But the federal government and the U.S. Virgin Islands recently held a conference for pesticide companies, resort operators and hospitality workers to warn them about the dangers of methyl bromide and other pesticides.
The EPA's regional administrator, Judith Enck, said she and Puerto Rico's Agriculture Department have found at least several other examples of prohibited chemicals being used at hotels. She recommends anyone staying at a hotel in Puerto Rico or the Virgin Islands ask if their room has been treated with pesticides and open windows to ventilate it when they arrive just to be safe.
"When you're on vacation, the last thing you're thinking about is if your hotel room or Airbnb (rental) is soaked in pesticide," Enck said. "You're at their mercy."
The Esmonds were vacationing in St. John at an $800-per-night resort when a worker sprayed methyl bromide in the condo below theirs, according to EPA officials.  Within days, the family was sick.
Eight months later, Dr. Theresa Devine is not dependent on a wheelchair, but her husband, Steve Esmond, former head of Tatnall's Middle School, and their two teen sons, Sean and Ryan, suffered neurological damage and are paralyzed. The teens remain hospitalized at Nemours/Alfred I. duPont Hospital for Children.Enck said that methyl bromide "is one of many pesticides being used illegally and inappropriately in the Caribbean" and that more local oversight and regulation of pesticide companies is needed.
While methyl bromide is still used on the mainland U.S. for agricultural purposes, the EPA banned the chemical for residential use in 1984 and is phasing out its overall use.
Experts say some companies in the Caribbean still use methyl bromide because of lax governmental supervision and because it kills pests in just one application. That level of toxicity, though, has serious consequences on humans, causing headaches, dizziness, fainting and even paralysis and death.
A federal investigation after the Esmond family's poisoning revealed that methyl bromide has been widely used in the U.S. Virgin Islands, Gov. Kenneth Mapp says. He said he learned the chemical had even been sprayed at his home and nearby residences in 2013 to treat a termite infestation. The territorial government has said it will regulate pest control companies more closely and require new permits for the sale and purchase of restricted-use pesticides.
Methyl bromide also has been used at hotels in Puerto Rico, officials say, but it is unknown if the island has taken any action. The territory's Agriculture Department, which is responsible for monitoring pesticide companies, did not respond to questions on illegal uses of methyl bromide on the island.
Enck said even one illegal application is unacceptable.
"It should be zero," she said. "The Puerto Rico Agriculture Department needs to stay vigilant. Even with the economic situation in Puerto Rico, they need more inspectors; they need to be educating the public."
Repeated messages left with several pest control companies, including a Puerto Rico branch of Terminix, the Tennessee-based company whose applicator's license was suspended in the U.S. Virgin Islands after the March incident, were not returned.
A couple of incidents involving toxic pesticides have been reported in the Dominican Republic, where at least one hospital alerted staff to the symptoms of pesticide poisoning following the 2013 deaths of two women and a cat.
Dr. Jose Yunen, who treated one of the victims, said he treated a couple for poisoning last February because he knew the symptoms from the 2013 case.
"There needs to be an alert for this like there is for Ebola and many other things," he said.