Plus, some tips to make sure your stay is free of any creepy-crawlies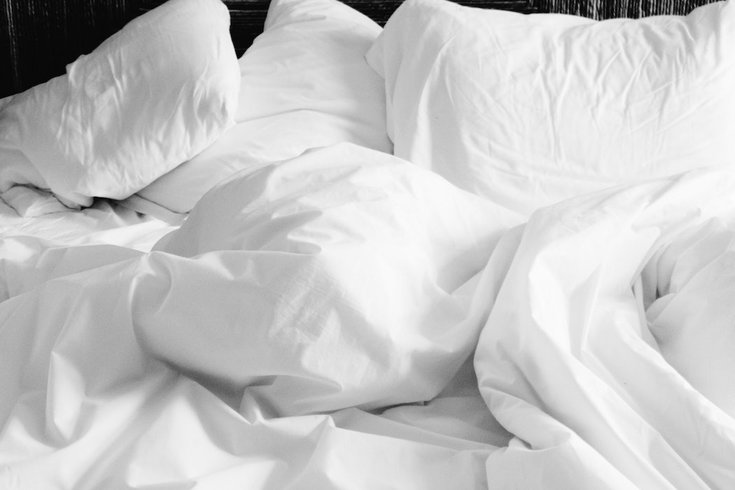 JAYMANTRI/PEXELS
PHILLY VOICE by Bailey King – August 14, 2019
Airbnb has taken the world by storm since its 2008 launch, providing travelers a more home-y and authentic experience at costs often lower than hotels.
While the user experience with Airbnb is generally regarded as seamless, one irritating problem has bothered some travelers: bed bugs.
A quick Google search of "Airbnb bed bugs" brings up pages and pages of reports of the discovery of reddish brown bug infestations or clustered itchy bites on the skin.
A CNET story published Tuesday about Airbnb's problem included one woman's report of bed bugs at an Airbnb here in Philadelphia. (Perhaps this is no surprise since Philly topped one list of cities  most infested by the pests.)
---
The woman, Dariele Blain, told CNET she found a bug crawling on the bed of a six-bedroom townhome she rented for a birthday party in July. She sent photos to Airbnb, which confirmed her suspicion that it was a bed bug, but the company said it could not relocate her 20-guest party to another Airbnb, to prevent spreading the bugs. Instead, the group was told to book a hotel, which Airbnb reimbursed – plus the original rental fee – within a few days, Blain said.
Blain told CNET:
"There's nothing in there [about] what to do if the house is not clean or if there's bedbugs. They need to be more proactive with stuff like that because it's a public health issue."
(This appears to be common protocol, as friends of mine had the same experience in Montreal and had to move to a hotel.)
While this is Airbnb's unofficial protocol, there is no official one. The company claims to handle bed bug cases on a case-by-case basis and, in one such instance, reportedly asked a renter to sign a nondisclosure after an incident.
Bed bugs are a type of insect that feed on human blood, usually during nighttime hours. While they do not transmit disease, their bites can result in skin rashes, psychological effects and allergic symptoms. According to the Environmental Protection Agency, bed bugs are, indeed, a public health issue.
While hotels primarily have a handle on the little critters, no place is truly safe from an infestation.
The New York Times has an all-inclusive tip guide for to make sure you don't bring any bed bugs home with you. These tips include looking out for the telltale brown-black stains on sheets, mattresses and boxsprings, avoiding putting your luggage on the bed and use a lint roller to test luggage for bugs after travel.
And read the full story from CNET, "Bedbugs are giving Airbnb users headaches… and itchy bites."
The woman said the flames from her stove lit up rubbing alcohol that she had poured to try to kill the bedbugs
NBC10 Philadelphia | by Randy Gyllenhaal and Rudy Chinchilla | August 1, 2019
A fire that consumed an Upper Darby apartment and caused evacuations in the rest of the complex may have been sparked by a woman's misguided attempt to get rid of bedbugs.
An elderly woman living on the fourth floor of the Elizabeth Manor Apartments complex told firefighters and NBC10 that it was she who accidentally caused the Thursday morning blaze after the flames from her stove set alight rubbing alcohol that she had poured as a way of getting rid of bedbugs.
Because the fire station is only a few blocks from the complex, firefighters were able to respond quickly, going door to door to tell people to evacuate as they extinguished the blaze, Upper Darby Township Fire Company Deputy Chief Peter Huf said.
"First-arriving companies were met with heavy fire showing out the top floor and window of the apartment and a report of people trapped," he said.
Dozens of residents were temporarily displaced, but there were no reports of injuries. The fire was also contained mostly to just the woman's unit, with some minor smoke damage to neighboring units, and residents were allowed back inside.
Fire investigators, however, were still working to determine whether or not the blaze really was caused by a bedbug extermination attempt gone wrong, Huf said.

PHILADELPHIA
June 3, 2019  –  Nate Homan
We're number one!
…On a rather nasty list.
Philly scooped up the number one spot on the Terminix annual ranking of "Top 50 Bed Bug-Infested Cities" in the country ahead of summer vacation season and Bed Bug Awareness Week.
Where did the City of Brotherly Love rank last year? Second. Is this the first time Philly has been crowned most bed bug infested city? Nope. These insufferable little pests were snug as a bug in a rug in Philly in 2014 too.
"Bed bugs continue to pose concerns for public health, as their presence is felt across the country, in cities large and small," Terminix Residential President Matthew Stevenson told BuisnessWire.
Rankings are determined through a compilation of bed bug-specific data of service calls reported at more than 300 Terminix branches across the country. The rankings represent Metropolitan Statistical Areas with the highest number of actual services between April 16, 2018 and April 15, 2019.
Thanks to increased travel, bed bug infestations have gone up since the 1990s.
Terminix research revealed that 22 percent of Americans polled have had a bed bug encounter, and that the odds of encountering them are much higher for those with children.
Despite the high incidence rates and increased awareness of bed bugs, this research shows nearly half of the country who travel do not know what precautions to take to guard against them.
Appearently, Philly is a hotbed for such individuals.
There are some pretty standard signs and symptoms of a bed bugs infestation.
Terminix experts warn that bed bugs can be found in more than just bedding and mattresses. They can easily hitchhike from place to place via personal belongings, such as jackets, purses and luggage, or hide in upholstered furniture and behind baseboards.
Infestations are notoriously difficult to treat. They can mature in about 35 days, and can survive seven months until a year.
Bed bugs are largely active at night, so infestations can be difficult to spot. Look for signs of the insects like shedded skins and blood spots on mattresses or sheets.
Terminix reccommends washing all clothing and other belongings, as recommended on the label, suspected of being exposed to bed bugs at high temperatures to help kill off the pests, and keeping potentially compromised luggage in a plastic bag to prevent the insects from spreading to other belongings.
Another telltale sign of bed bugs is their smell. The scent of their pheromones can be quite strong. It's often described as a musty odor.
Oh yeah, another indicator that you might have an infestation: Burning raised itchy bumps with a clear center, or a dark center and lighter swollen surrounding area scattered in zigzag patterns or in a line. The bite itself is pretty much painless. On average, they suck blood for a solid 10 minutes while their victim sleeps.
Here are some tips to mitigate the risk of being bitten or transporting bed bugs:
Check hotel headboards, mattresses and box springs for live bed bugs, their exoskeletons and or dark blood spots.
While full-grown, bed bugs are about the size, shape and color of an apple seed. Travelers should also look for newly hatched nymphs, which are cream-colored and the size of letters on a penny, as well as small translucent eggs, which may be found in the tucks and folds of sheets.
Hang all clothing. Leave nothing lying on the bed or furniture.
Avoid storing clothing in a hotel's furniture drawers.
Store suitcases on a luggage rack as far away from the bed as possible.
Vacuum suitcases when returning home, and immediately wash clothing in hot water.
Between trips, store luggage in a sealed plastic bag in a garage or basement away from bedrooms.